You are here:
Donald Witman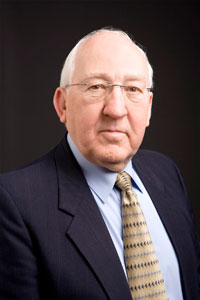 Mr. Witman joined Keystone in 1993 as a Board Member on the KSS Consolidated Board. He served as Board Chairman for a two year term in 1995 and again in 1997. He also served as Quality Committee Chair in 1998. When Keystone reorganized its corporation structure in 1999, Don joined the Keystone Human Services Board of Directors. He continued at that time to serve on the subsidiaries of Keystone Service Systems Board as well as the Tri-County Society for Children and Adults, Inc.
In 2003, Don joined the Keystone Human Services International Board of Directors, on which he served as Chairman from 2006 to 2012.
Mr. Witman also serves as a Member of the Corporation of Keystone Human Services.
Don has been instrumental in Keystone's leadership since 1993 but he is also one of the founding members of Key Ministries, the financial supporting arm for the College of Theology & Education in Moldova. Mr. Witman is active at the Hershey Christian School where he serves on the Board. He is a charter member of the Evangelical Free Church of Hershey, where he assisted in developing the church library and Hilltop Christian Nursery School.
In 1958, Mr. Witman began a 34-year career with the Milton Hershey School where he served as a reading teacher, wrestling coach, the Assistant Director of Education and Director of the Junior Program.
After retirement, Don served as Tour Director for Bob Neff Tours in Lancaster.
Mr. Witman was the 14th recipient of Keystone's Edna Silberman Humanitarian Award in 2004.
Don and his wife Barbara live in Hershey and have two daughters.